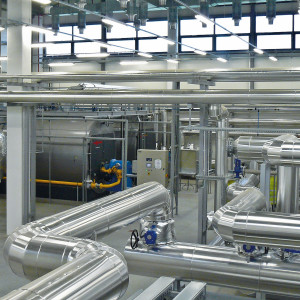 We have designed and built more than 100 boiler rooms, each of them exceeding 1 MW. For the last 25 years, the total thermal power of our boiler rooms has exceeded 200 MW (200,000 kW).
Our boiler rooms are fired with:
natural gas,
LPG,
light, medium and heavy fuel oil,
bituminous coal,
biomass,
animal fat.
Our boiler rooms operate in many industrial facilities (meat processing plants, bakeries, manufacturing plants, lighting systems, potato industry, LCD plants, paper industry), public utility facilities (hospitals, health care units), collective and individual residential buildings. Our customers are both small, medium-sized and large enterprises to include:
UNILEVER Polska S.A.,
Fabryka Wyrobów Cukierniczych CADBURY Wedel in Skarbimierz,
SHARP Manufacturing Poland Sp. z o.o.,
Oncology Centre in Bydgoszcz,
LG ELECTRONICS Polska Sp. z o.o.,
D'AUCY Polska Sp. z o.o.,
FROSTA Sp. z o.o. in Bydgoszcz,
Proszkownia Mleka (Powdered Milk Factory) in Piotrków Kujawski,
NEUPACK Polska Sp. z o.o. in Bydgoszcz.
Our boiler rooms generate hot water, low- and high-pressure saturated steam, heated steam and thermal oil.