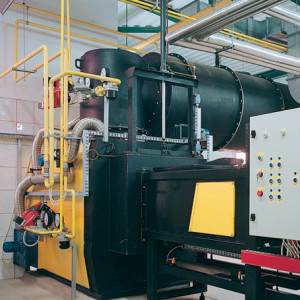 We specialize in treatment of the following type of waste:
municipal,
medical,
animal,
hazardous.
We have built a variety of waste disposal facilities for numerous customers, including:
Oncology Centre in Bydgoszcz,
Termo-Eko-Energia Sp. z o.o. in Chrzanów,
MEDICAM Specialist Hospital in Gryfice,
Zakład Utylizacji Odpadów Sp. z o.o. in Konin,
Regional Municipal Waste Treatment Plant in Machnacz,
District Hospital in Chojnice,
Producent Taśm Samoprzylepnych SABA Sp. z o.o. in Płock.
For incinerators designed and delivered by PROMONT we use rotary kilns, mainly for combustion and degasification of liquid waste (after spraying), sludge, pasty and solid waste. Rotary kilns provide good combustion of solid waste; however, due to poor mixing of gases with air, their combustion is not sufficient, therefore behind the rotary furnace there is a secondary incineration chamber used for final combustion of gases.
Medical waste is defined as solid, liquid or gaseous substances created in the course of widely defined medical activities in inpatient and outpatient treatment facilities, research facilities, institutes, clinics, veterinary units, and veterinary clinics. The term "medical waste", as well as the very nature of the waste, is not specified by Polish and European regulations. The waste act introduces the term "hazardous waste".
Hazardous waste is waste that, because of its origin, chemical or biological composition, or other properties, poses danger for the life and health of humans or for the environment. Medical waste is classified as hazardous waste. Such classification of medical waste is limiting for application of particular technological solutions for waste disposal. One of the best and most successful methods of medical waste disposal is thermal disposal.
Gasification chamber and afterburner chamber are the two basic elements of the technological system. Gasification of medical waste in the gasification chamber takes place in 600-850°C. The created gas is then burned in the second chamber called the afterburner chamber. The temperature reaches 1100°C and the gases should remain in the chamber for more than 2 seconds. Temperature of the combustion gas is very high so it is beneficial to use heat recovery systems.
Hospitals are facilities that can easily manage and use the heat recovered as steam or hot water. Below you can find thermal disposal systems for medical waste with recovery systems and multi-stage flue gas purification systems developed by our Company.